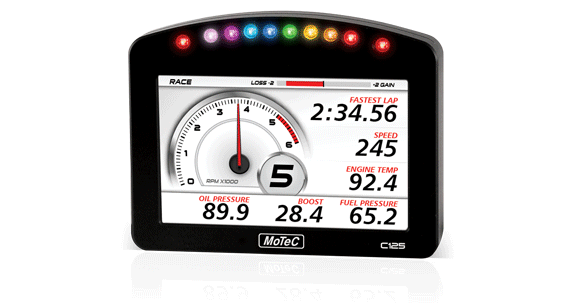 C125
Цена: 3020.00$



C125 Display Logger, the first in the new C1 Series of standalone colour displays.

Building on our brand's unquestionable credibility in world class display and data logging solutions, this highly anticipated product sets a bold new benchmark and is sure to excite customers at every level.

Its superb full colour screen delivers 125mm (approx 5") of vivid, high resolution graphics, and an anti-reflective finish ensures incredible clarity, even in direct sunlight.

Numerous selectable layouts are supplied, offering various designs and colour options. Users can customise these layouts with configurable channels, labels, measurement units and warnings. In addition, three separate 'pages' can be set up for different scenarios, e.g. Dyno, Qualifying and Race.

An array of ten fully programmable RGB LEDs is incorporated into the unit for use as shift lights, warnings or other driver alerts. The colour, function and intensity of each LED is configurable, allowing for custom patterns and creative team strategies.

The C125 can be used standalone or integrated with other electronic devices such as ECUs and Expanders. Data from factory or aftermarket ECUs can be logged and/or displayed using optional adaptor looms. An OBD-II adaptor loom is available to plug directly into the port on many later model vehicles, and CAN and RS232 looms enable connection to other ECUs.

Similar to the CDL3, the C125 is available as Display-only or as a combined Display Logger with 120 MB of internal logging memory. Display-only units can be upgraded in the field at any time using the logging upgrade.

An I/O upgrade can also be purchased to activate additional inputs and outputs, including 6 analogue voltage inputs, 2 analogue temperature inputs, digital and speed inputs and 4 auxiliary outputs. A MoTeC E888 or E816 can be connected for further expansion.

Displayed channels and labels are configurable on supplied layouts. The C125 acquires data from devices Layouts: selectable fixed layouts, user programmable alarms, lap times, fuel calculations, minimum corner speeds, maximum straight speeds and much more.

Постоянная ссылка на данный товар:
http://motec.com.ua/products/c125-28.html