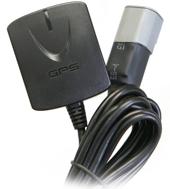 GPS-L10
Цена: 350.00$



The GPS-L10 is a 10 Hz GPS which combines the electronics and antenna into one small unit. A highly sensitive receiver allows the GPS to lock onto signals even in difficult environments. It is fitted with a DTM connector and is pre-configured to be compatible with MoTeC Dash/Data Loggers. It is not compatible with MoTeC ECUs. (See GPS-L5)

This unit is suitable for speed, position and lap timing.

Compatible with
MoTeC ACL
MoTeC ADL3, ADL2 (not compatible with original ADLs)
MoTeC SDL3, SDL

SPECIFICATIONS

Performance
Update rate 10 Hz
66 satellite channels
Dynamics 4 G
Power supply voltage 4.0 – 6.0 V

Communications
RS232
Baud rate: 38400

Physical
Case size 48 mm x 41 mm x 14 mm
Weight 106 g
1 x 4 pin Deutsch DTM, 3 m flying lead
Built in antenna
Mounting - magnetic base.

Постоянная ссылка на данный товар:
http://motec.com.ua/products/gps-l10-52.html